Trip to Malacca
Hi all. Long time no see. My brother has recovered from Chicken Pox. It wasn't measles. It was Chicken Pox! 3 weeks had passed, and my skin is not yet "sprouting" any signs of Chicken Pox. I don't want to speak to soon and I don't want to jinx it. I do feel some minor itchiness here and there. Lets just say I'm still waiting for the Chicken Pox to appear. :D

Last weekend, I went to Malacca (on 12th august - Saturday) with my parents. My dad had a meeting regarding MUPV owners at MITC auditorium. The last time I went to Malacca with my parents was during my convocation last year.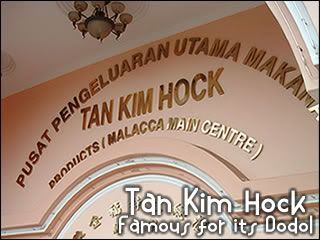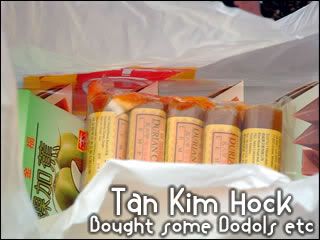 First stop was at Tan Kim Hock (TKH). As soon as we reached there, I saw like 6 tourist buses. Wow! A lot of tourists. We didn't spend a lot of time there. I didn't even had time to taste any sample food. Hmmm. :( We bought some dodol and lempuk.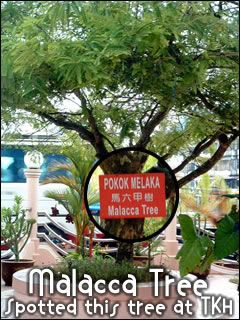 I spotted a Malacca Tree in front of TKH. It was there last year, but only this year I took a photograph of it. Ehehe. If you are interested to visit TKH, pls visit my
previous post
which is an entry i wrote last year about TKH. There's also the address of the place in the link. TKH has another branch at Jalan Bendahara, right in the middle of the Malacca city but never have we stopped there. Parking might be limited.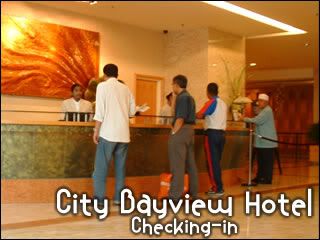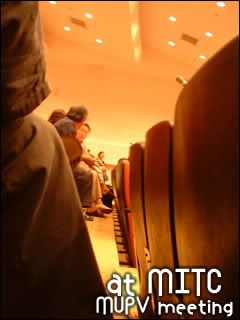 After the stop at TKH we went to our Hotel to check-in. Can you spot my dad in the photo above? Our rooms were not ready yet. So we went to have lunch at this huge mamak stall. Its not really a stall.. its a restaurant. Its really huge! It reminds me of Nelayan Restaurant at Titiwangsa. We all had nasik kandar which was really yummy. Next, we headed towards MITC which was just opposite the mamak restaurant. The meeting started at 2 and ended at about 4.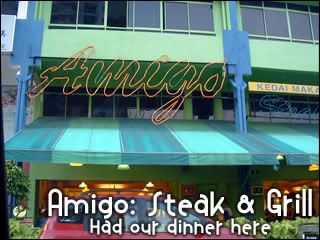 We went back to the Hotel to collect our room keys and went up to our room. At about 6 we left the hotel to have our dinner at Amigo Steak & Grill Restaurant. We went there last year, so why not this year. My mum said in the car, "Jom pegi mkn kat kedai yg pinggan besar2 tu. Ala yg portion besar. Takkan tak ingat kot?". I was like "huh?". It took me awhile to realised that my mum was talking about Amigo's. I forgot all about Amigo's. I'm so sorry, Amigo's. How could I forgot about you? I forgot about FOOD! OMG! This is nonsense! I must be down with a flu or something.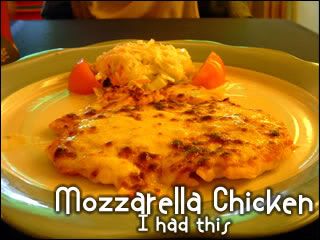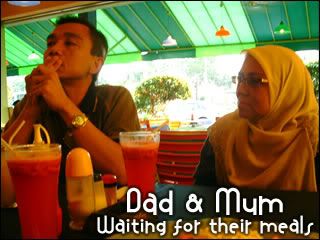 So we had dinner at Amigo's. Me being me.. ordered the same thing i had last year - Mozzarella Chicken! My mum ordered Grilled Fish and dad ordered Black Pepper Steak. Refer to my
previous post
on Amigo's to know the exact location of the place, if you're interested.
Again I forgot to order the XL size drinks instead of ordering a regular size drink. My mum also ordered the same drink as me which was Watermelon juice (RM3.80 each). We could have just ordered the XL size drink and shared. The price of the XL size drink is about RM5-6. Erm.. could have saved RM1 the least. Have to remember next time we dine at Amigo's. My sis and bro haven't dined at Amigo's yet. Hopefully we'll get to eat with the whole family at Amigo's sometime soon.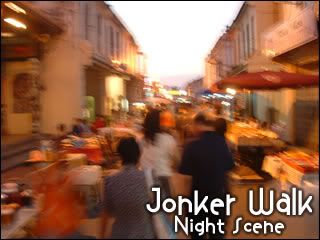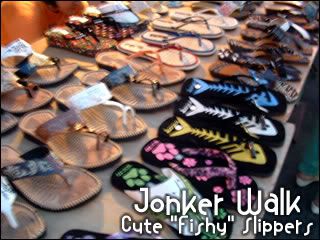 The nite was still young so my dad "ajak" us for a stroll at Jonker Walk. Hohoho. It was the month of August, the month for the Hungry Ghost Festival. I told my parents what i knew about the festival. Some of it I learnt from watching ghost movies. I AM a big fan of Asian Horror movies.. you know.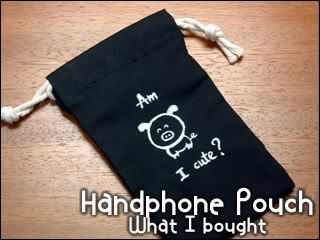 I bought myself a handphone pouch (refer photo above). Cost me RM4. Mum bought a box of pineapple tart. As usual dad bought - nothing. At the center of the street there was this stage where people come up to sing; singing mostly opera songs. In front of the stage there were a few rows of seats. There were 2 separate seating area; 5 rows in the front and 5 rows at the back. the front seating was unoccupied. The back was totally full. From watching the movie "The Maid"; I learnt that the front seating was reserved for ghosts. You just see the seat being empty but it really isn't empty. Erkk. Jeng jeng jeng!

By the end of the day, mummy was too tired too walk... so she end up walking like a duck (kangkang style) coz we had to walk all the way back to where we parked the car. My feet was practically swollen due to my small feet. We left Malacca next morning which was on Sunday. I leave you with this last photo. A photo inside the bathroom hotel. Anyone kind enough to correct it?