My Mum's Birthday Celebration
My Mum's Birthday Celebration
we went to Crown Princess Hotel to celebrate my mother's 55th birthday. Her birthday was on the 30th of March and we had to wait for the weekend to celebrate her birthday. My sister, Maleena was the one who made the reservation for our dinner (as usual). we were all dressed up and ready to fill up our bellies with good food.
I tried everything and i do mean everything. I even tried the raw oysters with a squirt of lemon. it was my 1st attempt eating raw oysters. i've eaten raw salmon before and other raw seafood (thanks to sushi) so it wasn't really my 1st experience eating raw food.
the raw oyster was tasteless. i could only taste the lemon. the texture was erm very smooth, like eating jelly. it wasn't that bad. my bro and sis tried it too and they were making weird faces after gulping the oysters. it was really funny. my dad had eaten oysters many times so he was practically showing off during dinner.
"The proper way to eat an oyster is by slurping the oysters straight off the half-shell, unencumbered and free of such accoutrements as a reflexive squeeze of lemon, strings of fresh-grated horseradish, a dollop of zippy cocktail sauce or a drop or two of red wide vinegar-and-shallot mignonette."
- The Proper Way to Eat an Oyster [ Source:
Link
]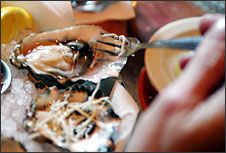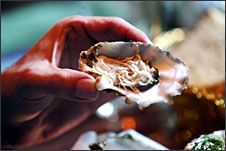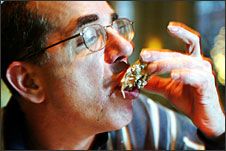 wow. and i thought a squeeze of lemon was the only way to eat oyster. okay then. now i can strike out raw oysters from my "food-i-must-eat-at-least-once-in-my-life list". :D

i didn't take any rice during the buffet dinner coz i've been eating rice for about 20 years and i know how rice taste like. i wanna fill up my tummy with food i haven't eaten or have not eaten for some time.

i think i went about 15 trips during the buffet dinner. my brother in-law was amazed at the rate i was going. hahaha. after cleaning up a plate, i will say "next" out loud to signal to my brother that we can go for the next round. my brother always likes to tag along with me during buffet like this coz he's pretty scared going off alone. hahaha. i am like his bodyguard, if u know what i mean. i'm talking about my real bro here, not my brother in-law. so don't get confuse k?

it was a nice dinner. it was different coz we have one extra family member this year. how nice. how about next year? are we going to have another in-law with us? i doubt that. huhuhu.

Labels: Family Matters, Food