The best-est day ever at Internexia
The best-est day ever at Internexia

It was December 30th 2005, the last of class for the year 2005. As usual class starts at 9.30 as there would be a few people arriving late. Class starts with us correcting the Thursday's exercise on Problems, Errors, Consolidation 2". It was a lesson on the most common mistakes we'll usually make.
I got all correct except for one tricky question. I scored 62 out of 63 questions. That's quite good, yeah? I was impressed myself. Haha. Didn't know I was quite good at grammar.
We moved on to our speaking exercise where we had to discuss in groups of three about "Men & Women". The discussion was about who gets along better; men get along better with men or women get along better with women. Besides that we had to discuss on the gender roles, which role is easier in today's world; being a man or being a woman.
Inaz interrupted the class to tell us that there was a job offer at PJ. They would be taking 2 people each for these position; Customer Service, Sales & Marketing, Computer Tutor and Administrative. There were offering permanent job if we did well during the 2 months placement. I was considering about being a Computer Tutor, but in PJ? That's quite far. We had to tell Inaz during lunch if we're interested with the jobs. I copied the address and contact number of the company, just in case I change my mind.
There were a few more topics to discuss on when suddenly Pn. Bis came into our class to talk to us. As usual, the class went quiet. We only spoke when we were asked. Ehehe. Pn. Bis started to ask one by one about what's the importance in our life. Then, she told us about her trip to UK. She'll be leaving for Birmingham tomorrow to visit her son, daughter and grandchildren. She'll be there for 20 days. Gosh! That's quite long. I want to go to UK too!! It's been awhile since I last gone overseas. My last trip overseas would be the trip to Perth, Australia with my sister. That was ages ago, in 2002 - a year after 9/11.
She ended the talk by daring us to conduct the class ourselves. All the lesson should be made by us. Mr. Dom & Pn. Zaini would be in our class shaking their legs and monitoring our activity. Pn. Bis gave us RM50 to spend on snacks! Snacks? RM50 for snacks? That's a bit too much to buy snacks, rite?
So, Nizam suggested we should buy domino's pizza instead. But who is going to buy them? Syaini and I volunteered and Ash would be driving us to Bangsar. I invited Fatimah and Rafidah to join us. It was only 12 noon and we had already left for lunch. Inaz gave us the direction to go to Domino's, Bangsar. It's been awhile since I went for an outing like this with friends. I felt the joy that I once felt before which I nearly forgotten.
We went down to LG2 where the carpark is. I was pretty anxious to see how Ash's car looks like from the inside. Bcoz I heard from someone that his car is his house. So I was imagining it would be pretty messy.
We reached where he parked his car, and went inside. It was spotless! No rubbish in sight! The car smells good too! Hahaha. I was really impressed! Syaini was sitting in front while Rafidah, Fatimah and I were sitting at the back. On my lap was Ash's bag. It looks like a camera bag but it's quite light and too small to fit a camera. I asked him what's inside. Is there a bomb inside the bag? (Only Internexia's staffs and trainees would be able to understand this). He said the bag contains makeup. At first, I didn't believe him so without any hesitation I curiously opened the bag. And well… well… well. He was telling the truth. There was powder. I thought I saw a perfume too and a few other things inside the bag.
I closed the bag and sat still like a school kid in a bus, peering out the window. We were heading towards Bangsar - a place where I grew up. It's been 17 years since I left Bangsar and moved to Gombak. I was curious how Ash would know that I once had lived in Bangsar. Whether he made a wild guess or he read in my blog.
Anyway, there was a massive traffic jam in Bangsar. It was about 12.20 noon. People were rushing to go for Friday prayer. We had trouble finding domino's pizza, at last we found it. The girls and I went ahead to order some yummy pizzas while Ash went to find a parking spot. I ordered 2 pizzas and by using the Domino's Pizza Gold Card which Nizam had given me, we would get 2 more free pizza. I also handed the cashier a voucher to get a FREE personal pizza. Altogether there was 4 and quarter pizzas (one small). Ehehe. I ordered - Extravaganza, Spicy Sambal, Seafood Delight and BBQ Chicken for Large, and Beef Pepperoni for small. All the pizzas were thin crusts. The total was RM59.60. I handed the RM60 nizam gave me and got back my 40 cents. I gave my name and we had to wait 15 minutes.
The girls took a seat while I stood near them. I guessed I wasn't feeling tired. I was so excited and happy about the outing so I decided to stand for 15 minutes. Hah! While we waited, we talked about stuff. We talked about soft wares and the internet. They asked me about Firefox, Flash and Torrent. Wow. I felt like I was some kind of an IT Geek, when I wasn't one. Really. But I told them what I knew, so that's fine.
A few minutes later, Ash walked in. He finally found an empty spot to park his car. Seconds later, my name was called. The pizza was ready. We grabbed the pizzas and went back to the car.
The girls all agreed that Ash should go for prayer while we girls would be staying in the car. We were going round and round Bangsar to look for a space to park the car but to no avail. At last, Syaini suggested that she would take over the car while Ash went to pray. As he went out, we saw one space near the mosque right before the traffic light. So Syaini went straight to park the car. We had to double park as it was impossible to find a parking space in that hour. We rolled down our windows and waited. Fatimah brought her lunch so she shared her lunch with the 3 of us. It was fun. I was having fun. I forgot how fun having friends was. :( we talk and talk while we peek through Ash's stuff. hahah. Sorry Ash. Rafidah even tried on Ash's sunglasses. It looks really cool on her. We told jokes , gossip and laughed our heads off. I could not stand the smell of the yummy pizzas. I felt like eating one slice but hesitated. The boys would be furious if they saw one slice of pizza missing.
At about 2 pm, my phone rang. I presumed it was Ash. I had set my phone to "General" earlier as I predicted that he would be calling me after he had done his prayers. I told him where we were and hung up. And then it strucked me. The number that was trying to reach me last nite and a couple of nites before was in fact - Ash's number. I kept in mind I would ask him why he had called me in the middle of the nite.
We immediate went back to KL Sentral. We reached there at 2.15. Fatimah, Syaini and I went to the surau for our zuhur prayer while Rafidah went upstairs with the pizzas. By the time we had finished prayer it was 2.30. We thought that the boys would not wait for us and had gobbled up all the pizzas.
I passed the lab and saw everyone was sitting quietly in front of their computers. Wow, they haven't started eating yet. Syaini, Rafidah and I went to see Inaz about the job placement in PJ. Inaz said that no way I was going to work at PJ as Pn. Bis had made some plans what to do with me. Hmm. Syaini brought her new camera to show me. I played with it for awhile and snapped a photo of fatimah when she wasn't looking.
Hahaha. I took the opportunity to asked Ash on why he called me last nite. He wanted to ask me about Mezzanine. He was searching a place which was located at the Mezzanine area, and he didn't know what Mezzanine was. Ehehe. As far as I know, Mezzanine is… errr. It's really hard to explain. It's an intermediate floor between main floors of a building, like a balcony. Maybe this picture can help.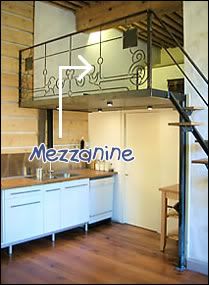 We were hanging around the front of the office chit chatting when Mr. Dom came to us and talked about the job placement. Some of us were still confuse whether to work with Internexia or else where. Hmm. I said to Inaz that I was interested to work under Emile. So she mentioned it to Emile and Emile said OK! Err… I'm not sure whether that's a real OK or a fake OK. As long its not on paper, I won't take it seriously.
We were all standing around listening to what Mr. Dom had to say. Syaini and I grew tired of standing so we played around. I was holding her hand like I about to escort her across the wedding aisle. Syaini signaled to look at my left, and I saw Roslan and Ash holding hands with a wide grin on their faces. They were imitating us. I should have taken that chance to kiss Syaini on the cheek and dared Roslan to do the same to Ash. Hahaha. But I didnt. I should have thought about that sooner. Bummer!
After we were dismissed, we went back to cell no. 1 and I suggested that we should eat the pizzas bcoz Rafidah was starting to get a gastric. Syaini suddenly blurted out that I would be working under Emile so she won't be worried if she and Rafidah work in PJ. Nizam was like "Really?". And then Syaini said something about Ash and me. Then she said Oops! Everyone was like.. "ooooo" and then they burst out laughing. Aiya. You guys are so naughty la, always like to match-make people. Thank god my face didn't turn red like a tomato. I wasn't quite happy with it though I tried to laugh it off. I ate about 4-5 pizzas. Fatimah and Rafidah ate more pizza than the last time we had Domino's. All of this thanks to me coz I ordered the thin crust rather than ordering the pan crust which is thicker. The boys were really hungry; one boy even snatched a slice of pizza from Rafidah's hand. Isk isk isk. You guys behave like vultures!
We girls went home at 4.00 pm. I'm not sure about the rest. It was a tiring day but I had fun. I had a blast! Thanks to Syaini, Fatimah, Rafidah and everybody else for making my day.
P.s.: It was the best-est day maybe bcoz we didn't have a normal class today. 65% of the day was more on outing than class. :D We should have more outing like this! >:)
Labels: Babbles