New Book: If Tomorrow Comes
New Book: If Tomorrow Comes
I'm done reading The Da Vinci Code so bought another new book! Yeay! I bought this book yesterday (19/12/2005) at MPH KL Sentral. I just started reading it today. This book is from Sidney Sheldon. It's Sheldon's seventh novel and another one of Sheldon's #1 bestseller.

Here's the synopsis: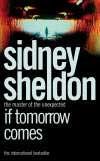 If Tomorrow Comes
by Sidney Sheldon

One of Sidney Sheldon's most popular and bestselling titles, repackaged and reissued for a new generation of fans. Tracy Whitey is on top of the world. Young, beautiful, intelligent, she is about to marry into wealth and glamour - until, betrayed by her own innocence, she finds herself in prison, framed by a ruthless mafia gang and abandoned by the man she loves. Beaten and broken, but surviving with her dazzling ingenuity, Tracy emerges from her savage ordeal - determined to avenge those who have destroyed her life. Her thirst for revenge takes her from New Orleans to London, from Paris to Madrid and Amsterdam. Tracy is playing for the highest stakes in a deadly game. Only one man can challenge her - he's handsome, persuasive and every bit as daring. Only one man can stop her - an evil genius whose only hope of salvation is in Tracy's destruction! Sidney Sheldon is one of the most popular storytellers in the world. This is one of his best-loved novels, a compulsively readable thriller, packed with suspense, intrigue and passion. It will recruit a new generation of fans to his writing.
Labels: Books