Meet My New Soft Toy!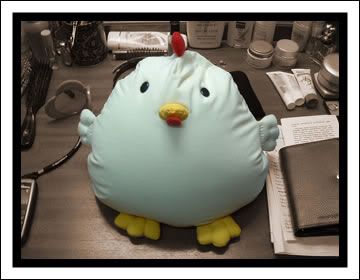 I saw this lil' cutie at Ampang Point (Shop N Pay). The moment I pick it up, I fell in love with it! It is so SOFT! Feels pretty much like a bean bag only softer and fluffier. Don't you think it looks pretty much like Colonel Sanders? Ehehehe. Haiya.. all of a sudden I have a craving to eat KFC. Huhuhu! Anyway, I haven't figured out a name for it yet. How about Chicken Little? No? Chicky? Chickpea? Chicklets? Err... okay. I'll tell you later after I have decide on a suitable name. :D
P.s: If you are wondering, it's RM 27.80. Not as expensive as
Pinky
though. Pinky was like RM100.
Labels: Babbles