Essay 1 - Internexia
Essay 1 – Internexia

Ok. This is another one of my essays that Mr. Dom gave us to do. Please don't laugh. It was Emile's idea to write about "The Person You'd Like to Marry". I had a tough time writing this. Had to take a few love surveys just to know what type of guy I'm looking for. Hahaha. So this is the finished product. Enjoy!
The Person I'd Like To Marry
by Madihah MJ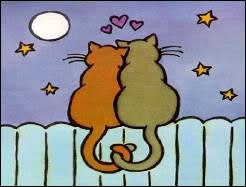 Everybody hopes and wants to get married but not everyone gets married. I would like to get married too. The definition of love is an affection based on admiration, devotion, common interests, enthusiasm, warm attachment, unselfish loyalty and benevolent concern for the good of another.
I think the best age to get married is 28 years old. By the time I am 28 years old, I will be ready to get married, I have a job and hopefully by then I have found my Mr. Right. I think marriage based on love is more successful than an arranged marriage. I hope my parents will not match-make me with a total stranger without my knowledge. That would be a very scary situation! I want to get to know my partner first before getting married and most definitely, fall in love with that person. I think a couple should get to know each other for at least a year before they get married. This is necessary so that both can learn more about each other including their bad habits! I also hope I can get along well with my in-laws and hopefully my parents will approve of the person I love and would us their blessings.
The person I would like to marry should be someone who is sensitive, intelligent, caring. a family oriented person, romantic and a natural born leader. He has to be a tall person as I am tall myself. It would be great if he is between 5 feet 8 inches and 6 feet tall. He does not have to be handsome. People should not be judge others by their looks. As long as I like the way he looks and is neat and smart, that would be fine with me. I would prefer to marry a person who is older or is the same age as me. If he is older than me, the age difference should not exceed 10 years.
One of the qualities that I look for in my partner is that he has to have a stable job. By having a stable job, he can support me and my children. He must earn a monthly salary of at least RM 5,000 or more. Other than that, he must own a car because I am afraid to ride on motorcycles. Also, he has to own a house where we can live and build a family together.
On top of that, he must be helpful in the kitchen as I love to cook. I expect him to help me with the cooking and washing. I also hope that he can fix anything such as changing the light bulb and cleaning up the house. He must also like children because I want children of my own. I want at least two children, a girl and a boy or at the most four children - two girls and two boys.
The person I want to marry has to love food since I am a food lover. I love Japanese, Chinese, Italian and Western food. As I mentioned earlier, I love to cook. I expect my husband to eat at home during weekdays as I will do the cooking. During weekends we can go out to eat.
Also, he must love travel because travelling is my passion. I have travelled to half the world and dream to complete my traveling experience with my loved ones. He also needs to be an animal lover since I adore animals very much. I love cats the most. But since my mother is terrified of cats, I cannot own one. I have been dreaming of having my own cat some day, so he must be willing to have cats as pets. It is a bonus if he has cats of his own. I like Scottish Fold cats the most since I find them very cute with their floppy folded ears.
The characteristics I would look for in my partner include having a great sense of humour, kind hearted, humble, loving, loyal, responsible and talkative. I love someone who has a great sense of humour because I find it very boring if I am with a serious and straight-forward person. I would like someone who is unpredictable, spontaneous and full of surprises. I would like someone who is kind-hearted and humble since I want him to be gentle, down to earth and has the heart to help others. I would like someone who is a loving and loyal person as I need to know that he is someone who is committed in our relationship and loves me for what I am. I want someone who is responsible and dependent as I dislike telling him what to do. Last but not least, he has to be talkative as I am quiet at times. I believe that the person with the opposite character of me is the most compatible person. Other than that, in my old age I believe that I would need someone I could talk to since we would be too old to do anything else.
However, the most important criteria of all that my future partner should have is he has to be a devoted Muslim. He must be a religious person and a great leader since we need to educate and raise our children according to the Islamic way of life.
The point is; I am looking for a soul mate. Who needs a fling when what I want is the whole fairytale: long walks on the beach, up-all-night conversation, and watching the sunrise or sunsets in each other's arms. I am a picky person who does not connect with just anyone. A strong intellectual streak, loyalty, and a great sense of humor are terrific selling points. I am hoping to find my other half, that one person who can finish my sentence, someone who really understands my inner emotions. And until I find him, I probably would not mind flying solo every now and then. This is because deep down, I know that being with the wrong person is just an obstacle to being with your one-and-only. So even as I am writing this and thinking about how to find him, I know that somewhere out there, he's probably thinking the same thing. Only time will tell.
~ the end ~