1st Day of Class After Raya
1st Day of Class After Raya
"Back to school with cool blues from L'Oreal."
~ My famous quote used every time school holiday is over.
Noooooooooooooo. (sambil dongakkan kepale ke atas)
Erm. 1 week of holiday wasn't enough. I wasn't even in the mood to go to class early today. Usually I'll be leaving home at 7.45 am. But today, at 8 am we reached at the LRT station. Even my brother asked me why I wasn't rushing like always.
At 8.30 am I reached at KL Sentral LRT station. it was still early. So I drop by to MPH to buy one miserable black pen. I also drop by Kiosk. It was my 1st time at Kiosk. Before, I didn't dare to enter the Kiosk Shop because it was fasting month. I didn't want to be tempted will all the candies and chocolates sold in that shop. I bought one mineral water and one tube of mentos.
I checked my phone for any messages. There was one message from Fatimah. She will not be coming to class today. She has a headache. Well… well… well. If only I could fake a headache or a tummy ache. I could just skip class and go to KLCC or Midvalley for a stroll. Ehehehe. What an excellent idea! It's been quite awhile since I did something devilish.
Reached at Internexia, like always I will pay a visit to the ladies before going in Internexia. Check my tudung whether its OK and head to class. I message Syaini to check whether she'll be here or not. Erm. Syaini will not be coming to class as well. She is still in Perak. She'll be heading home this evening. Probably, she will be reaching Gombak around midnight.
In class, Madam just arrived. I told her about Fatimah and Syaini. I hope Ash comes to class. Because if he doesn't, I'll be batting eyelashes in front of Madam. I'll be alone in class. Huhu.. Noooooooooooo!
Fortunately, we merge classes again. This is because Pn. Zaini unfortunately lost her bag which contains her IC, wrist watch, purse, credit cards, handphone etc. Someone stole it from her while she was praying at one of the rest stops along the highway (sorry if this is incorrect, but this is what i heard). So she went to report all her lost belongings at JPN. She'll probably come to class after lunch.
Oh yes! There was a new student, Firdaus also known as Tom (i seriously do not know how he got the name Tom as his nick because Tom and Firdaus isn't even close). He'll be joining my class. So there will be 2 boys (Ash and Firdaus) and 3 girls (Me, Syaini and Fatimah). The morning class was more about review the past month lessons. We have to mention about what we have learnt so far and what do were expect or should learn in the future. We also had to tell about our learning experience. it could be about any learning experience. As Madam was talking about the increasing number of accidents during festive season, we all opted to talk about our experience in road accidents as well. I guess all of our brain is not functioning well due to too much consumption of ketupat and rendang.
I talked about the email i received from a friend, which contains several pictures of a road accident which recently happened (I assume). Normally I'd be getting the gruesome photos of road accidents with no survivors. But this time, there were 1 survivor and 2 did not survive. The one who survived is the driver of the silver Kancil. I bet most of you got the same email. What made this email different from the rest was one photo of the driver looking at his friends. His friends are both females and both had serious injury to the head. One lost half of her face and the other was stuck between the car seat. The look on the guy's face was undeniably terrifying. What was running through the guy's mind when he saw both his friends did not survive the car crash? As someone who had experience road accidents once before, I still could not imagine how it will be like, to survive and the rest of friends a dead. i sure need some serious counseling classes to get over this trauma. However, I was really lucky that my friends and I survive with only minor injuries.
Have you seen the picture? If you haven't, click on these links :
Photo 1
,
Photo 2
,
Photo 3
Next we had a role-play. 4 of us: Me, Tom, Nizam and Roslan were the CEO's of company A. We had to interview 3 candidates who have been working for us for quite awhile and decided to give only ONE of them a promotion to become the General Manager. So the candidates are: Rafidah (as the Sales Manager), Arismen (as the Operational Manager) and Fad (as the Marketing Manager).
The CEO's had to create a list of interview questions that will be asked during the interview. We had about 22 questions prepared. We took turns asking the questions at 3 of the candidates. At last, we decided that Fad was the best candidate to be giving the promotion based on a few reasons; he had more experience (beside the other 2), he was a lot more convincing, he was confident, his explanations were clear.
Next task was a bit scary because the other students were back to their original classes. Pn Zaini was back. Only Tom and I were left in class. Madam continued on the next interview session which was about the post for Customer Service Manager. I fumbled quite a lot during the interview. My brain was not functioning well. I can't even lie properly. The words that came out from my mouth were all jumbled up. Aiya. Tom did much better than me. I guess I cracked easily under pressure. When I get nervous, my brain and my mouth will not work together.
Then, the new guy came in. I had another new classmate. His name is Razi from Puchong. At the time he came in class it was already lunch time. He said he'll be joining our class tomorrow and not today, as he had some things to do in the evening. So now, it will be 3 guys and 3 girls in my class.
As I left class to go for prayer, Rafidah ask me whether I'd like to join her and Fad to go for lunch at KL Sentral. I wasn't very hungry. So I declined and went straight down to LG (the surau). The moment i open the surau's door, I was shocked to see an increasing number of people sleeping in the surau. This is much worst than fasting month. There were like 8 people sleeping. A few seconds later another lady came in and sat down and went to sleep. Wow. This people I really envy them. Why can they sleep so easily when I on the other hand have trouble sleeping? Even when I'm so tired, I still have trouble sleeping. Hurmmpphh.
After Zuhur prayer, I ate a few more Mentos-es (is this correct? haha. is there plural for Mentos? no I don't think so. i was just kidding ok). I didn't eat anything after that. I went back up and went to the lab to check my blog and my Gmail. I went to class at 2. Pn Zaini went into our class and said to Madam that she wanted to "borrow" Tom and me for an hour. She wanted to do a vocabulary lesson with us, plus her 5 students. This was the 1st time our class went to their class.
Usually, they will be the ones coming to our class. Our class is much more spacious than theirs. We were given a sheet of paper. It was a crossword puzzle. I like!! We had to find all 14 words of fruits. a few of us had no trouble finding all the words, a few struggled.
After that, we were supposed to make a crossword puzzle based on different topics. There were 7 of us, so 7 different topics: Animals, Birds, Vegetable, Occupations, Country, Languages and i can't remember the last one. I did on vegetables, Nizam did on occupations, Fad did on birds, Aris did on Countries, Rafidah did Flowers, Roslan did xxx (How could I forget about this?!) and Tom did Languages.
We started out listing all 14 words. We had to think of 14 words of our own and rearrange it in the crossword puzzle. After that, we were supposed to exchange the crossword puzzle with each other and try to solve it. Who can solve the fastest will get a chocolate. There were 2 pieces of chocolates so the fastest and the 2nd fastest will get the chocolates. Obviously all the answers should be correct.
So who you think won the challenge? Hahah. Me of coz. Ceh prasan. Well I'm the ratu of puzzles. I love puzzles. I even made a game of my own out of puzzles - REBUS PUZZLE, remember? Click
here
,
here
and
here
to read my post on my game "Rebus Puzzle". I'll make a point to play these puzzle games at least once a day to train my brain, especially during long holidays. I don't want my brain to get sluggish during the holidays, you know. I love all puzzle, name it all.
Here's my Vegetable Crossword puzzle. Download it here -
.doc
or
.pdf
These are my latest craze:
Sudoku
(http://www.miniclip.com/sudoku/sudoku.htm)
Blooming Garden
(http://www.miniclip.com/bloominggardens.htm)
Unfolding
(http://www.ebaumsworld.com/games/unfolding.html)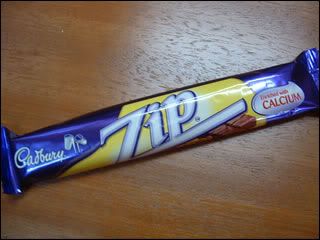 So I got one piece of chocolate from Pn. Zaini.
This is it! It's the Cadbury Zip chocolate.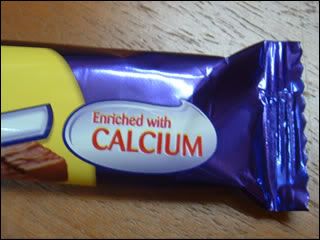 It's "even enriched with calcium". Wow! Just what
I need. For someone who is lactose-intolerant,
I need all the calcium I can get.

*updated at 8.54 pm (added crossword puzzle in .doc and .pdf file)
Labels: Babbles